Fully automatic tube feeding via bulk feeders
The Sci-Print VXQ Bulk Vial Handler is compatible with a range of different tubes from 0.5ml to 15ml. The flexible design allows the user to easily change the tube types with the touch of a button.
The Scinomix VXQ is designed to work with the VX device series, the Sci-Print VX2 and the Sci-Print VXL.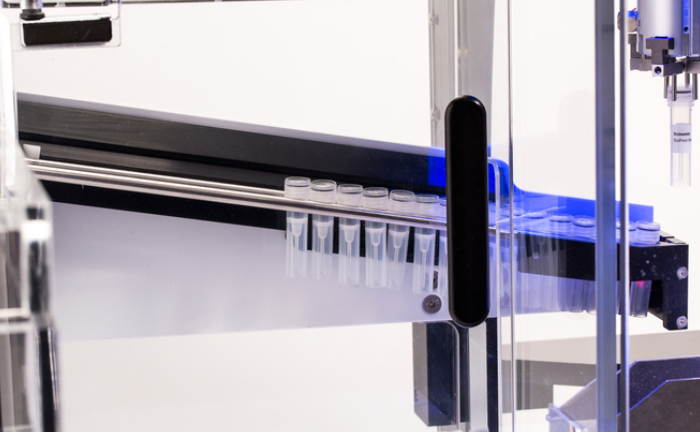 Chiller Block – cooling block
The chiller or cooling block is a custom rack that keeps frozen tubes cooled while the tubes are labeled. Similarly, the sample contents can be kept cooled to achieve longer life.
For samples that come directly from a biobank
Keeps the samples cooled while labeling the tubes.
Can be used for labeling or relabeling of sample tubes.
Compatible with tubes in SBS rack formats, like Thermo /Matrix, Brooks, Micronic and LV
A peristaltic pump that is easy to connect to the VX2 or VXL via a dispensing arm and working with easy exchangeable tubing.
Can be used for dispensing from 0.1 to 9ml.
Can be used with aqueous solutions
For larger quantities, another Watson Marlow pump is available with another pump head
2 D bottom or side barcode scanner
A 2 D bottom barcode scanner can be used to retrieve data as well as to verify the barcode.
The barcode data can be used either as import or export file.
Can be used with all standard 2 D bottom barcodes from Matrix, Brooks, Micronic, Greiner, LVL and others. Barcoded labels are easy to verify with the side barcode scanner./li>
A process control that is very easy to implement.