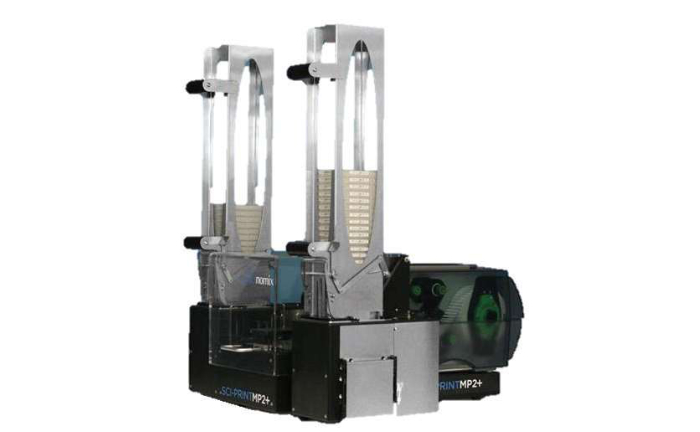 DEVICE-
Specification
System requirements: Windows 7 with Service Pack 1 or Windows 8 or 8.1 (recommended) OR Windows XP with Service Pack 3, Microsoft .NET Framework 3.5 with Service Pack 1 or higher
Network requirements: Establishes a connection to a computer via a serial RS232 interface. A serial port or USB to serial port adapter is required on the computer
Air requirements: 80-90 PSI @ 2.5 CFM. The air supply must be oil / contamination free, with an inline regulator and air dryer.
Main power requirements printer: 110-240V AC @ 2A 50-60Hz, power supply: 120-240VAC @ 2.3 A, 50-60Hz
Supplied power supply Output voltage: 24 V DC
Maximum output current: 2.71 A
Max output power: 65 W
Max. Ripple and noise: 240 mV p-p
Transport and storage temperature: -20 ° C to +55 ° C
Operating environment (only for indoor use)
Temperature: 10 ° C to 40 ° C
Humidity: 20% to 80% non-condensing
Altitude: Up to 2000m
Main supply: +/- 10% nominal voltage
Transient overvoltage: overvoltage category I, printer (overvoltage category) II
Nominal load: pollution degree II
Dimensions: Height: 35 "(895mm), Width: 22" (550mm), Depth: 31 "(781mm), Weight: 160 lbs. (73kg )
Labeling rate / throughput: 1-sided labeling: 440 plates / hour, 2-sided labeling: 330 plates / hour
Plate height specifications: 48 half-height microtiter plates without lids or 13 deep well blocks +
Fully automatic
Sci-Print
MP2 +
Fully automatic MicroPlate label printer
The Sci-Print MP2 + is a fully automatic microplate labeler that is compatible with a wide range of microplates and deep well blocks (ANSI / SBS 1-2004) *. In contrast to our single microplate labeler (MP2), the MP2 + is a higher throughput option that enables valuable travel time.
This machine contains two vertical stackers for loading and unloading microtiter plates. Plates are loaded into an input stacker, processed on the printing platform and moved to the output stacker. Forklifts can hold up to 48 plates without a lid. Additional stackers can be added to increase capacity.
The Sci-Print MP2 + is supplied with standard labels to optimize your labeling machine. Look at her!
Feature
600 DPI thermal transfer printer
Labels can be applied to all sides of the plate in any combination
Standard label size: 0.25 "h x 2.0" w
Removable forklifts for easy loading and unloading
Stacker capacity for 48 half-height microtiter plates without lids or 13 deep well blocks
Fast cycle times:
1-sided labeling: 440 plates / hour
2-sided labeling: 330 plates / hour
User configurable label fields
Barcode scanner for valida
Can print a range of standard barcodes including 1D and 2D
Lid available (optional)
Performance
Small footprint saves valuable space in the laboratory
Consistency of the labeling
Diagnosis for testing and setting up
Fast cycle times to increase productivity and efficiency
Activated symbologies
These are the current symbologies that we are implementing.
Code 128r
Code 39 (full ASCII)
Interleaved 2 of 5
Little space requirement saves valuable laboratory work space
data matrix (2D)