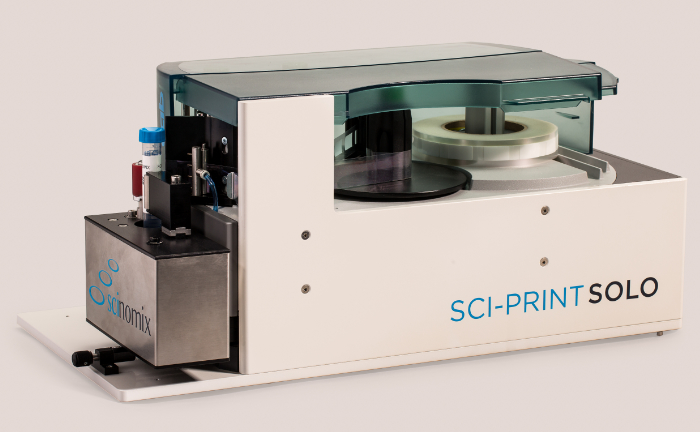 DEVICE
Features
Labels tubes ranging from 0.5ml to 50ml
Manual loading throughput of up to 750 tubes per hour
One system handles multiple tube types
Thermal transfer printer (600dpi)
Optional 1D /2D barcode scsanner for data lockup or validation
Easily integrated into third party systems
category
Semi-automatic
Software
windows based software
Compressed air
5,5 – 6,5 bar
Connection

Serial port or a USB-serial adapter

Network – RS232

Compressed air knife unit
Megapascal (MPa)
Power
230 V
Software
Features
User-friendly and Windows-based software
integrated label designer
Integrated auxiliary and diagnostic programs for easy error detection
Semi-automatic
Sci-Print
Solo
Semi-automatic tube labeler is a single, free-standing labeling device.
The Sci-Print SOLO: Semi-Automatic Tube Labeler is a single, free-standing labeling device. This device is often integrated into larger automated systems such as various liquid handlers from Tecan, Perkin Elmer and others. The Sci-Print SOLO can label tubes from 0.5 ml up to 50 ml in size. However, the device can also be operated as a stand-alone foot switch.
We also offer a wide variety of label kits for different applications and tubes. Label and ribbon combinations were tested with the automated Scinomix devices. They have proven to be the best combination for an automated labeling process. Scinomix offers six different label sizes to cover a variety of different tube sizes.
Applications
In many laboratories, labels are still applied by hand or even written on by hand. The disadvantage here is that any valuable samples can no longer be identified later, the quality of the label material does not correspond to the storage or usage conditions or the user does not have a sufficient number of labeled sample tubes available in a timely manner.
Further criteria for permanent sample identification are the legibility of the code, the writing, the durability, the resilience under different storage conditions and the positioning of the label on the sample tube or the microtiter plate. If the label on the sample is used for further identification in automated systems, the quality is decisive.
Sci-Print

BB Dispensing – PICS