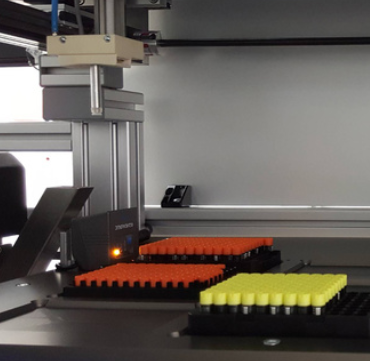 Base unit Tube Handler
for tubes from 10 – 60mm
Tray table modifiable according to customer requirements
Control unit completely integrated
Vacuum gripper
Category
Process solution
Operation
Touchpanel
Compressed air connection
6 bar
Connections

3x USB

Network: RJ45

Dimensions

Width: 1250mm

High: 1090mm

Depth: 600mm

only base unit

Weight
75 kg
Bag
Maschine
Packing speed
15 bags per minute
Bag size
Width:
50mm – 250mmHöhe:
100mm – 430mm
Filling weight
1 kg
Interfaces

USB

serial

Ethernet
Labeler for blood collection tubes
not limited to manufacturer
Basic equipment
Mobile labeling system for up to 140 blood collection tubes
integrated customer-specific loading compartments
high speed over 300 tubes per hour
for all types of blood collection tubes also Sarstedt
integrated barcode scanner and label printer
Easy to use:
easily accessible side door for changing label roles
Simple loading of the loading compartments with blood collection tubes
Thermal direct printer, freely selectable label design
Integrated additional label printer for 1, 2, 3 or more labels/li>
Process solution
Sampli

KiT

– production of clinical trial kits
SampliKiT for the production of clinical study kits
To create clinical study kits, valuable working time is often lost because many processes are still manual. Tubes are manually labeled, sorted and filled into bags. Data is assigned manually to the studies. Tubes are manually reworked both at the sample sites and later at the sample entrance.
With the SampliKit you gain valuable working time and have the process under control. Not only the process itself, also the tracking process is completely in your hands.
So far, you have left this task to service providers and CROs and want to control the process of your study kits yourself, then the SampliKit offers full flexibility in the use of different tube sizes and formats. The intelligent gripper can process different tubes on a single platform. An integrated and mobile barcode scanner attached to the gripper arm allows scanning of 1D or 2D barcodes during the picking process, thus increasing the working speed. No matter if the barcode is on the bottom or on the side of the tube, everything is legible.
Tubes with a height of 10mm – 60mm can be processed on the same platform. There is space for 10 x SBS format racks. The device is adaptable to all formats that can be used automatically. Contact us if you want to understand more!
On request, the device can be supplemented with a printer, a dispenser or a balance. The device has enough interfaces for importing or exporting data from LIMS / LIS or KIS.
Tube Handler Base for tubes from 10 – 60mm
Bagging Machine
Labeler for blood collection tubes – not limited to manufacturer
Tube Handling, packaging ready to use clinical trial kits
Tube Handler und Sorter

KIT –

Patienten-Kits – Pics
Options

can be retrofitted at any time
Weighing cell – Weighing of sample content / input and output control possible
Printer – Labeling of sample containers
Turning mechanism for capping and recapping – with stepless gripper only Dispensing pump – filling of tubes with buffer or any other solution
Reeding system for bulk material
RFID labeling on request
Examples of packaged clinical trial kits
Bag maschine
Packing speed: 15 bags per minute
Bag size: B 50mm – 250mm / L 100mm – 430mm
Filling weight: max. 1 Kg
Interfaces: USB, seriell, Ethernet
Labeling system for blood collection tubes from all manufacturers
High Throughput labeling of blood extraction tubes. igh Throughput labeling device for blood extraction tubes.

Automatic labeling System/li>
Easy tube supply
Expandable module
Label attachment position detection system
Exact placement of the label can be defined be the user.